International Campaign of Solidarity with Haiti
---
22 October, 2022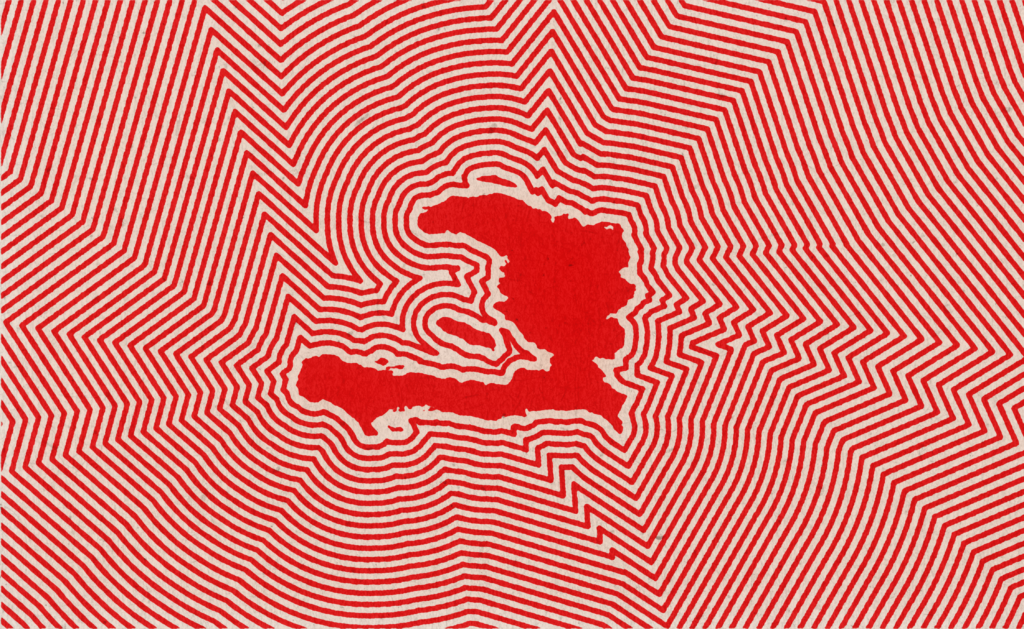 Sign our statement to join us in solidarity with the Haitian People and against foreign intervention!
During the last four years, the Haitian people have been in permanent mobilizations against the mass impoverishment of the people, the unjust inequalities that force much of the population to live in inhumane conditions, and against the economic privileges enjoyed by a small minority. In particular, the Haitian people have mobilized against rising inflation and fuel prices and, more recently, rejected the calls for foreign intervention that have been illegitimately requested by US-backed Prime Minister Ariel Henry.
Today Haiti is facing a possible new military occupation by the UN, similar to what occurred between 2004 and 2017 through the United Nations Stabilization Mission in Haiti (MINUSTAH). In this regard, the statements of the Secretary General of the organization, Antonio Guterres, who has asked the Security Council to approve said military intervention, in addition to the recent arrival of military planes sent by the governments of Canada and the United States, are worrying.
It is especially noteworthy that the reasons why the Henry government and the United Nations justify this possible military intervention are caused precisely by previous occupations on the island, such as the spread of cholera and the humanitarian crisis caused by the numerous cases of sexual and human rights violations committed by UN Peacekeepers against the civilian population.
We urge the international community, the regional integration mechanisms such as the Community of Latin American and Caribbean States CELAC, and in particular, the popular and progressive governments of the Americas, to categorically reject these new occupation attempts in Haiti and reject any attempt at interference. Referring to the principles of International Law of non-intervention, equal rights, self-determination of peoples, and sovereign equality enshrined in Resolution 2625 of the United Nations General Assembly; the solution to Haiti's domestic problems must be promoted by the Haitian people themselves without any type of foreign intervention, and prioritizing sovereignty, self-determination, and democracy in the country.
For a dignified and sovereign Haiti, free from occupation!
Roger Waters, Musician, United States of America
Noam Chomsky, Linguist and Philosopher, United States of America
Vijay Prashad, Tricontinental Institute, India
Joao Pedro Stedile, MST, Brasil
Giuliano Granato, Potere al Popolo, Italia
Roxanne Dunbar-Ortiz, California State University East Bay (retired), United States of America
Mary Girard, none, Canada
Aaron Katzeman, Climate Futures Collective, United States of America
Aaron Mate, The Grayzone, United States of America
Aayusha Duwadi, None, United States of America
Abby Martin, Empire Files, USA
Abdul Alkalimat, University of Illinois, United States of America
Abel Asrat, Non government , Ethiopia
Abriendo Caminos , Abriendo Caminos, Argentina
Adalid Martínez , Partido del Trabajo , México
Dr. Adam Kotsko, North Central College, United States of America
Adonys López Gómez, Centro Martín Luther king Jr., Cuba
Adriana Collado, Trabajadora de LRA19 Radio nacional Iguazú, Argentina
Adriano biava , Fea/usp, Brasil
Adriano Zerbini, privado, Brasil
Adwoa Oni, self, United States of America
AFONSO CELSO GALIS PEREIRA, INDEPENDENTE, BRASIL
Aida Garcia Naranjo Morales , Red Sin fronteras.RSF, Peru
Aitor G. Achutegui Betelu, Frente Nacional Ecosocialista por La Vida, Venezuela
Ajit Singh, No Cold War, Canada
Akinlabi E. A. Mackall, WWW.SEEDSWORK.ORG, United States of America
Alan Aja, Brooklyn College (CUNY), United States of America
ALAN SOARES FERNANDES DE AMORIM, MST, BRASIL
Alba Castillo, Movimiento Indigena Plurinacional de Trabajadores del Abya Yala, Abya Yala (continente latinoamericano)
Alba Estela Maldonado Lola , Centro Rolando Morán , Guatemala
Albert R Sonntag, Esq., None, United States of America
Albert Salvador Sala, privado, Spain
Alberto Martínez Sánchez, ATTAC Spain, Spain
Alcides García Carrazana, CMLK y Proyecto Videos Crisol, Cuba
Aldo Oliveira Caixeta, SEE/MG, Brasil
Alejaandro garcia, MCCU, República Dominicana
Alejandra Egido, Todo en Sepia asociacion de Mujeres Afrodescendientes en la Argentina, Argentina
Alejandra Mariel Velasquez , Nni FARE , Argentina
Alejandra Meléndez, Servicio Paz y Justicia , El Salvador
Alejandro del Aguila Murphy, Asociación Lek Ayotik, México
Alejandro Garcia, Movimiento campesinos las comunudades unidas, República Dominicana
Alejandro García Juárez , Instituto Mora, México
Alejandro Palmarola , Sociedad Cubana de Botánica , Cuba
Alex Mejía Gómez , Ninguna , México
Alex van Biema, Vassar College , United States of America
Alexander Gil, Frente Cultural de Izquierda , Venezuela
ALEXANDER TERRERO, Centro De Educación Comunitaria, República Dominicana
Alexander Torres Iriarte , Centro Nacional de Historia , Venezuela
Alexander Vargas Gutiérrez, Alto Comisionado por la Paz y la Vida – Movimiento por la Paz y la Vida – Diputado de la Asamblea Nacional, República Bolivariana de Venezuela
Alexandre Lazzari, Universidade Federal Rural do Rio de Janeiro, Brasil
ALFONSO INSUASTY, KAVILANDO Y RED INTERUNIVERSITARIA POR LA PAZ REDIPAZ, Colombia
Alfred Kale, Public citizen , United Kingdom
Alice Sutter, War Resistors League, United States of America
Aline da Silva Nicolino, Professora, Brasil
Aline Gomes Goulart , Funcate, Brasil
Alisa Natividad Delgado Tornés , Profesora Titular Universidad de Grsnma, Cuba
Allanis Dimitria de Oliveira e Souza Pedrosa, Levante Popular da Juventude, Brasil
Amalia Bueno Zamora, Colectivo Memoria Viva de los Pueblos, Spain
Amanda Yee, Party for Socialism and Liberation, United States of America
Ambassador Claris Charles , Grenada's Ambassador to Cuba , Grenada
Amber Banks, N/A, United States of America
Amber Carey , N/A, United States of America
América dos Anjos Costa Marinho, Coletivo Paulo Freire, Brasil
Amira Shaer, N/A, United States of America
Amiriz Ferrán Rodríguez, Movimiento Estudiantil Cristiano de Cuba MEC-C, Cuba
Amiriz Ferrán Rodríguez, Centro Memorial De. Martín Luther King Jr., Cuba
Amrit Randay, Sulong UBC, Canada
Ana Clara Costa Amaral, PUC Minas, Brasil
Ana Esther Ceceña, Observatorio Latinoamericano de Geopolitica, UNAN, México
Ana Isabel Menéndez Pérez, Asociación Hispano-cubana Paz y Amistad, España
Ana Ligabue, Independente, Brasil
Ana Lourdes Schneider, Membro de uma Instituição , Brasil
Ana María Ramb Hughes , AUNA. Asociación para la Unidad de Nuestra Americ, Argentina
Ana Maria Valentino , Movimiento Octubres, Argentina
Anabel Antuña Alfonso , PNA, Cuba
Anamarys Jiménez Rivera, Jornada Se Acabaron Las Promesas, Puerto Rico
Ananya Bhatia, Individual , Canada
Andre Andrade Pereira, Yoga de Rua, Brasil
André Aparecido Alflen , Movimentos populares , Brasil
André Barros, Comissão de Direitos Sociais e Interlocução Sociopopular da OAB/RJ, Brasil / Rio de Janeiro
Andrea Curtetti , Potere al Popolo!, Italy
Andreas Andreou, Union of Cypriots, Cyprus
Andrés Ruggeri, Universidad Nacional Arturo Jauretche/Universidad de Buenos Aires, Argentina
AndrésVázquez Socarrás, CMLK, Cuba
Andrew Douglas, Morehouse College, United States of America
Andrew Hsiao, Verso Books, United States of America
Andrew Kutnyak, DAD, United States of America
Andrew Ross, NYU, United States of America
Andrew Seraus , ARAAC, Curacao
Andy Cuzco, Fordham, United States of America
Aneil Rallin, Independent Scholar, United States of America
Dr. Aneil Rallin, Independent Scholar, United States of America
Ángel Miguel Basridas G, Profesor Universidad Bolivariana de Venezuela , Venezuela
Ángel Rodriguez-Leon , MINH , Puerto Rico
Angel Roman, Venceremos Brigade, Angel Roman
Angela A. Allen-Bell, Southern University Law Center, United States of America
Angela Marino, University of California, Berkeley, United States of America
Angélica López , Fundación Tradición Oral , Colombia
Angelica Vega, ong Perú Charity, Perú
Angeloi Colarullo Filho, PT Partido dos Trabalhadores, Brasil
Anibal Espejo, Movimiento de Encadenamiento productuvo, Venezuela
Anibal Espejo , CIEF Centro de Investigación y Estudios de Fronteras , Venezuela
Ann Garrison, Black Agenda Report, Pacifica Radio, United States of America
Dr. Anna Wexler, Mobius Artist Group, US
Antonio Luis Rocha Dacorso , Universidade Federal de Sergipe , Brasil
Apantumac., Acopoc., El salvador
Araceis García Reyes , Presidenta de la Fundación Red de Arte , Venezuela
Ariel Martínez Chorot ., Red de Educadores Populares,Red Fe x Cuba,CMMLK..Comunidad de Descendientes [email protected] de de [email protected] del Caribe. , Cuba
Ariete D'Agostini , Missionária Scalabriniana , Brasil
Arne Geybels , University of Antwerp , Belgium
Arturo Carrasco Gómez , Pastoral Social, Iglesia Anglicana de México , México
Asdrúbal Alamilla, Movimiento por la Paz y la Vida, República Bolivariana de Venezuela
Ashley Shiri, Melahuset, Norge
Asociacion civil Victimas del Caracazo y del Terrorismo de Estado Cuartorepublicano" (ASOVIC), Asociacion civil Victimas del Caracazo y del Terrorismo de Estado Cuartorepublicano" (ASOVIC), Venezuela
Asociación Hispano-cubana Paz y Amistad de Avilés, Asociación Hispano-cubana Paz y Amistad , España
Atilio Boron, Universidad de Buenos Aires , Argentina
Audrey Bomse, National Lawyers Guild, United States of America
AUDREY SHIPP, Decolonial Passage literary magazine , United States of America
AURORA DONOSO GAME, ACCIÓN ECOLÓGICA, Ecuador
Avery Book, Vermont Workers' Center, US
Ayush Singh, All India Students Association, University of Delhi , India
Azza Rojbi , Fire This Time Movement for Social Justice , Canada
B. Keith Brumley , Veterans For Peace, United States of America
Babette Grunow, Latin America Solidarity Committee–Milwaukee, United States of America
Bahman Azad, U.S. Peace Council, United States of America
Banbose Shango, All-African People's Revolution Party (GC), United States of America
Barbara Weinstein, New York Univ., United States of America
Barry Sweeney, World BEYOND War Ireland, Ireland
Beatriz Bissio , Universidade Federal do Rio de Janeiro , Brasil
Beatriz Leticia Llordén Troncoso , No, España
Beatriz Ponce Rodriguez, MEC de Cuba, Cuba
Belkys Suárez , Universidad de las Comunas, Venezuela
Ben Norton, Multipolarista, United States of America / Nicaragua
Ben Stahnke, Peace, Land, and Bread; Antioch University; Central State University, United States of America
Ben Wilkins, Raise Up the South, United States of America
Benjamin Balthaser, Democratic Socialists of America (DSA), United States of America
Benjamin Zinevich, Party for Socialism and Liberation, United States of America
Bert De Belder, Workers' Party of Belgium (PTB-PVDA), Belgium
Bertha Isabel Zúniga Cáceres, Consejo Cívico de Organizaciones Populares e Indígenas de Honduras (COPINH), Honduras
Bethânia Valença , Pernambuco, Brasil
Betsi Calatayud Fumero, Proyecto Nuestra America, Cuba
Beverly Keene, Diálogo 2000-Jubileo Sur Argentina, Argentina
Dr. Bikrum Gill, Virginia Tech, United States of America
Bill Fletcher Jr, former president of TransAfrica Forum, United States of America
Bizaye Banjaw, N/A, United States
Blanca Isabel Ruiz, CLOC Via Campesina , República Dominicana
Bo Nordell , LTU , Sweden
Bobby Ewing, PSL, United States of America
Bocafloja, Quilomboarte, México
Boris Reinaldo Aguiar Alvarado, Milicia Bolivariana, VENEZUELA
Brenda Brown, Various, United Kingdom
Brendan Routh, PSL, United States of America
Brigitte Petrie, N/A, Canada
Dr. Bruno Bosteels, Columbia University, United States of America
Bryesen Cooper, CPUSA, United States of America
Caio Piccarelli, International Peoples' Assembly, Brasil
Camillle Chalmers, PAPDA, Haiti
Cândido Grzybowski, CECIP e IBASE, Brasil
Carla Andrea da Silva Fortes Nery, Partido dos Trabalhadores de Santos Dumont, Brasil
Carlo Rafael Dolzan, Profissional Liberal/Arquiteto, Brasil
Carlos Alberto Salinas Molina, Zantray Pep la – Zantray Lakay – Venezuela – Haiti, Venezuela
Carlos Andres Rios Lucumi, Plataforma de la Clase Obrera Antiimoerialista Colombia, Colombia
Carlos Augusto Abrunhosa , –, Brasil
Carlos Augusto Lopes Espinheira , Aposentado, Brasil
CARLOS AZNÁREZ, PERIODICO RESUMEN LATINOAMERICANO, Argentina
Carlos Barrientos , Comité de Unidad Campesina , Guatemala
Carlos Enrique Policastro , Casa de la amistad zona norte, Argentina
Carlos L. Garrido, Midwestern Marx Institute for Marxist Theory and Political Analysis, United States of America
Carlos Roberto da Silva, N/A, Brazil
carmen ana dávila torres, barrileras 8 de marzo, puerto rico
carmen ana dávila torres , n/a, puerto rico
Carmen Dora Dutra Bay , População Civil , Brasil
Carmen Lorenzoni , Movimento de Mulheres Camponesas, Brasil
Carmen Lucia Aguiar , Cidadã , Brasil
CARMEN LUCIA DINIZ DOS SANTOS , COMITÊ CARIOCA DE SOLIDARIEDADE A CUBA, BRASIL
Carolina Alzate, RAFI USA, United States of America
Carolina Cositore Sitrin, Raging Grannies Code pink, United States of America
Carolina Inostroza Huaracan, MODATIMA Wallmapu, Chile
Carolyn Baker, General Baker Institute , United States of America
Caterina Lai Cullinane , Unite the union, United Kingdom
Catherine Randell, None, UK
Cathy Gilbert, Green Party of Florida, United States of America
Cécile Celma , Union desFemmes de Martinique , Martinique
Cecília Maria Luli , Coletivo de Mulheres Negras Baobá , Brasil
Cecilia Valerga, Serpaj Argentina, Argentina
César Sención Villalona, Economista dominicano-salvadoreño, El Salvador
Chad Binge, none, United States of America
Dr. Charisse Burden-Stelly, Black Alliance for Peace, United States of America
Choo Chon Kai, Socialist Party of Malaysia, Malaysia
Chris Brandt, Fordham Univ Communications Dept, United States of America
Christian Alexander Brawner, PSL Louisville, United States of America
christian javier romo, Nuestramerica, Argentina
Christine Randell, None, UK
Christopher Field, n/a, United Kingdom
cindy sheehan, Cindy Sheehan's Soapbox , United States of America
Dr. Claire Cahen, Virginia Tech, United States of America
claire heistek, n/a, canada
Clara flores , Coordinadora sindical salvadoreña , El Salvador
Claudia Fernández, 2003 Colectivo Politico., Argentina
Claudia Petry, Universidade de Passo Fundo, Brasil
Cláudio Alves de Vasconcelos, Universidade Federal da Grande Dourados, Brasil
Claudio Graziano Fonseca , IJF, Brasil
Cláudio Huber Medeiros de Andrade, cidadão, Brasil
CLAUDIO KATZ, UBA, Argentina
Cláudio Sousa, UJIMA, Cape Verde
Cleiton Goveia , MST, Brasil
Cliff Connolly, Democratic Socialists of America, United States of America
Cobito, Jornada se Acabaron Las Promesas, Puerto Rico
COECOCEIBA-Amigos de la tierra Costa Rica , COECOCEIBA-Amigos de la tierra Costa Rica, Costa Rica
Comité Patriótico "Francisco Alberto Caamaño Deñó", Comité Patriótico "Francisco Alberto Caamaño Deñó", República Dominicana
Coordinación Feministas de Izquierda, -COFIZ-, República Dominicana
Cora McHugh, student/estudiante , United States/Los Estados Unidos
Dr. Corinna Mullin, City University of New York (CUNY), PSC-International Committee, The International People's Tribunal on US Imperialism , United States of America
Craig Birchfield, Party for Socialism and Liberation, United States of America
Cristián Gutiérrez, Asamblea Territorial Agua Santa-Ferroviaria, Chile
Cumbe de Mujeres Afrovenezolanas, Cumbe de Mujeres Afeovenezolanas, Venezuela
Cyrus Bina, University of Minnesota, United States
Damiano Chiari , UCP kuna , Panamá
Damien Flinter, Humanity, Ireland
Dr. Dana Alhasan, PSL, United States of America
Dandara kyese medeiros dos santos , Mst , Brasil
Dania Batista Guevara , Colectivo Voces Ecológicas , Panamá
Daniel Benson, St. Francis College, United States of America
Daniel Czitrom, Mount Holyoke College, United States of America
Dr. DAniel Faber, Global Center for Climate Justice, United States of America
Daniel Mosquera, Union College, United States of America
Daniel Perez Creus, Privado, Senegal
Daniel Perez Creus, Privado, Senegal
Daniel Ruiz Bracamonte, Grupo de Investigación Kavilando, Colombia
Daniela González López , Observatorio de Derechos Humanos de los Pueblos , México
daniela ortiz, Frente de Lucha Materna , Peru
Daniele Puccio, Rosa Luxemburg Foundation, Germany
Danny Haiphong, The Left Lens, Black Agenda Report, Friends of Socialist China, United States of America
Darci Frigo, Terra de Direitos, Brasil
Dariel Hernandez, Party for Socialism and Liberation , United States of America
Dario Lagos, Partido comunista revolucionario PCR, Argentina
darren ell, Centre Pauline-Julien , Canada
David Abdulah, Movement for Social Justice, Trinidad y Tobago
Dr. David K. Seitz, Harvey Mudd College, United States of America
David McDonald Denny, Caribbean Movement for Peace and Integration , Barbados
David McNally, University of Houston, United States of America
David Polanski, Independent Scholar, United States of America
David Warburton, Teacher, United States of America
Dayana del Carmen López Villalobos, ChavismoSUR , Argentina
Déborah B. Santana, individuo, Puerto Rico
Deean Stevens, Community Church of Boston, United States of America
DENILSON APARECIDO DASILVA, CIDADÃO BRASILEIRO, BRASIL
Dennis An, Sozialistische Deutsche Arbeiterjugend, Germany
Dennis Grammenos, Northeastern Illinois University, United States of America
Dennis Nancoo, , Canada
Deonete Rodrigues Nagy, UFABC, Brasil
Derecka Purnell, Columbia Law School, United States of America
Derek R. Ford, DePauw University, United States of America
Dr. Derethia DuVal, Haiti Action Committee, Alameda co.
Dermeval Saviani, Professor Emérito da Universidade Estadual de Campinas – UNICAMP, Brasil
Dexie Rodríguez , Jefa ubch, Venezuela
Diana Allanb, McGill University, Canada
Diana Rebeca Arteaga Suárez, Mujeres Afro, Venezuela
Diandra Rodriguez, unaffiliated, United States of America
Diego Luis Caicedo, Astracan , Colombia
Dieter Druessel, Secretariado de Centroamérica, Suiza, Suiza
Digna Sanchez, FoPRI, Puerto Rico
Dirce Conrado Veiga , Comitê Popular de Lula Lula Livre Itália , Italia
dominic moulden, The Elephant Free School, United States of America
Dominique Michèle Perioto Guhur, Movimento Sem Terra-MST, Brasil
Donna Goodman, PSL, United States of America
Doris Diaz , PSUV , Venezuela
DORLÉANS Max , GRS , MARTINIQUE
Douglas Filgueiras , Centro de Referência em Direitos Humanos/Avesol (coordenador) – Conselheiro Estadual de Direitos Humanos/RS, Brasil
Douglas Koziol, N/A, United States of America
Dr. Curry Malott, West Chester University, United States of America
Dr. Francesco Pontarelli, University of Johannesburg, Italy
Dr. José RíosOrlandi, MINH Puerto Rico , Puerto Rico
Dr. Rabab Abdulhadi , San Francisco State University , United States of America & Palestine
Dr. Rabab Ibrahim Abdulhadi , San Francisco State University , United States of America & Palestine
Dr. Dr. William Graham, CAUT, Canada
Dra. Berta Joubert-Ceci , Psiquiatra (jubilada), Puerto Rico
Drucilla Cornell, Rutgers University, United States of America
Dylan Costello, United Workers Party – Commitee, United States of America
Ederson J L Aquistapasse, Profissional Liberal, Brasil
Edgar Frías , Alfaro Vive Carajo , Ecuador
Edil Torres Rivera, Wichita State University, United States of America
EDISON MUNHOZ FILHO, CUT RJ, BRASIL
Eduardo Cervantes Magaña, Dauge A.C,, México
Eduardo Mestre Rodríguez, Journalist, influencer and content creator with +400K followers, Colombia
Eduardo Souza , Sem, Brasil
Dr. Efraim Davidi, Tel-Aviv University, Israel
Egilda del Carmen Martínez Martínez , Dirección Política Municipal PSUV , República Bolivariana de Venezuela
Egla Martinez, Personal, Canada/Iximulew, guatemala
Elaine Pereira , UFRGS, Brasil
Elba Maria Dutra Bay , População Civil, Brasil
Eleonora Albano, University of Campinas, Brazil
Eleonora Pedot, Movimento Nacional Campesino Indígena- Via Campesina , Argentina
Eliene Silva, MST, Brasil
Eliot Lerman, NA, United States of America
Elisa Maria Machado Terra, particular, Brasil
Elisabeth Armstrong, Smith College, United States of America
Elisabeth Schmid, Keine, Schweiz
ELISABETH SUSANA WARTCHOW, GHC/Porto Alegre, Brasil
Elise Tak, artist, United States of America
Elma Ayres Fernandes, SGeralMST, Brasil
Eloisa Soares Klafke , Civil , Brasil
Elsa Sánchez , Articulación Nacional Campesina , República Dominicana
Elsa Schvartzman, Universidad de Buenos Aires- Argentina, Argentina
Emeline Fortes Nery, Partido dos Trabalhadores de Santos Dumont, Brasil
Emigdio Triana , Corporación Aury Sara , Colombia
Emily Jones, RealUtopia.org, United States of America
Emily Lockwood, ANSWER Coaltion, United States of America
Enrique Amestoy, Cooperativa AmiKoop, Uruguay
Enrique González Pendás, Ecovida, Cuba
Dr. Eric Reinhart, Northwestern University, United States of America
ERIKA SYLVA CHARVET , FRENTE PATRIÓTICO NACIONAL , Ecuador
Ernesto López Lopez , A.C., México
Errikos Finalis, Semanario "Dromos", Grecia
Esteban Jimenez, N/a , Cuba
Esteban Silva Cuadra, Movimiento del Socialismo Allendista, Chile
Estefanía Cámera da Boa Morte , Asociación Cultural Argentino Brasileña A Turma da Bahiana/ Columna Antirracista, Argentina
Estela Vazquez, Retiree 1199, United States of America
Estela Vazquez, Retired Executive Vice President 1199 SEIU, USA
Estelí Capote , Instituto Puertorriqueño de Relaciones Internacionales, Puerto Rico
Esther Iverem, "On the Ground" on Pacifica Radio , United States of America
esther kingston-mann, retired, United States of America
Ethan Evalobo, https://www.youtube.com/channel/UCU0tjb1YSZtB-xtDj0mTljg, United States of America
Eubilio Rodríguez Aguado, ATTAC-Madrid, España
Eugene Hamond, NYC Labor Chorus, United States of America
Eugene Hamond, NYC Labor Chorus, United States of America
Evandro Nery, Partido dos Trabalhadores de Santos Dumont, Brasil
Dr. Evelyn Wilson, Southern University Law Center, United States
Fabiha Hannan, N/A, United States of America
Fábio José Alves Garrido, Movimento Brasil Popular, Brasil
Fabio Lins Duarte, ONU, Brasil
Facundo C., Independent Activist, Uruguay
Faramarz Farbod, Beyond Capitalism Working Group , United States of America
Felipe A Lora, Revista Dominicana, República Dominicana
Felipe Noguera , Caribbean Regional Coordinating Community for the Pan Afrikan and Indigenous Movement , Trinidad and Tobago
Fernando Buen Abad, Universidad Nacional de Lanús , Argentina
Fernando Gatti, no, Brasil
Fernando Guzmán , Permacultura, Argentina
Fikre Abraha, People, Eritrea
Fiona Edwards , No Cold War , Britain
Flavia Julius, Macquarie University , Australia
Flaviana Serafim Vieira, Rede Jubileu Sul Brasil, Brasil
Flávio Jorge Rodrigues da Silva, CONEN-Coordenação Nacional de Entidades Negras/Brasil, Brasil
Florence Darling, PSL, United States of America
Florencia gomes, Área de género de la comision 8 de noviembre (dia de los afroargentinia y la cultura afro), Argentina
Florencia Sunderland , Sin Fronteras , Argentina
Frances Figarella, Vamos, Puerto Rico
Frances Geteles-Shapiro, Granny Peace Brigade, United States of America
Francisca , Ancreb, Brasil
Francisco Alves Soares, Cidadão, Brasil
Franklin González , Profesor universitario , Venezuela
Franziska Kleiner, IF DDR, Germany
Fredgy Noel, Filmmaker, United States
Fredy Rojas Arcay , Médico Jubilado de PDVSA, Venezuela
Fundación En Busca de la Sonrisa de Un Niño, Fundación En Busca de la Sonrisa de Un Niño, Canadá
Gabriel Coderch, Centro Oscar Arnulfo Rimero, Cuba
Gabriel Doyle, Universidade Federal de Itajubá – Brasil, Brasil
Gabriel Molina, Sindicato único de telecomunicaciones SUTEL PitCnt, Uruguay
Gabriel Molina , Sindicato único de telecomunicaciones Pit Cnt , Uruguay
Gabriel Rockhill, Villanova University / Critical Theory Workshop, United States of America
Gabriela Lazo, Universidad Nacional de Lanus, Argentina
Gabriela Vendrell, Academia Maria Reina, Puerto Rico
Gabrielle Garcia, University of Washington, United States of America
Gamaliel Pérez González, Pedregales de Coyoacán, México
Garcia Alvarado Martha, MORENA, México
Dr. George Ciccariello-Maher, Vassar College, United States of America
Gerald A. Perreira, Organization for the Victory of the People, Guyana
Gerald horne, University of Houston , United States of America
Geraldina Colotti, Brics Psuv, Italia
Geraldina De Sousa Couto , Mov Personas Adultas Mayores de Venezuela , Venezuela
Gerardo Antonio Ramírez Álvarez , Cauroma , Colombia
GERARDO DE LA FUENTE LORA, Universidad Nacional Autónoma de México , México
Gerardo Dure , Comité Oscar Romero SICSAL Argentina , Argentina
Gertrudis Simón Pineda , Central de Trabajadores de Cuba, CTC , Cuba
Gilda Batista , Entre Puentes Con Rusia, Honduras
Gilma Vieira da Silva, REDJUAFRO – Red de Juventudes Afrodescendientes de América Latina y el Caribe, Argentina
Giovani del Prete, Movimento Brasil Popular, Brasil
Giovani del Prete, Movimento Brasil Popular, Brasil
Giuseppe Andrea Liberti , Università di Napoli Federico II, Italy
Gladys Flores, Negras(si)Marronas , Argentina
Gladys Seijas , Ni una menos , Argentina
Glaucia Keli Back, MST , Brasil
Glenn Toddun, Personal, Canada
Gloria E La Riva, Cuba and Venezuela Solidarity Committee, United States of America
Gloria Romero, Colectivo Violeta Feminista, Uruguay
Gloria villena portal , Confederación nacional de mujeres del Perú Micaela Bastidas Puiucagua , Peru
Gonzalo Armua, Frente Patria Grande, Argentina
Gowri Parameswaran, SUNY, USA
Graciela García Vera, MPP – Frente Amplio, Uruguay
Guerrilla History Podcast, Guerrilla History Podcast, International
Guilherme Caldas de Souza Campos, Uniersidade Estadual de Campinas, Brazil
Guillermo Johnson, UFMA, Brasil
Guillermo Miguel Galceroni , CTA de los Trabajaores, Argentina
Guillermo Santana Sánchez , Vicepresidente 2 de la Coordinadora Ecuatoriana del Movimiento de Solidaridad y amistad con Cuba., Ecuador
Guillermo Varela, Agrupación Envar El Kadri-PB, Argentina
Guillermo Vicente, Particular, Argentina
Guiomar Rodríguez , Frente Nacional Ecosocialista por la Vida, Venezuela
Dr. Güney Işıkara, New York University, United States of America
Gustavo Bittencourt Machado, Universidade Federal da Bahia, Brasil
Gustravo Castro Soto, Otros Mundos Chiapas/Amigos de la Tierra México, México
Haizea Gutiérrez Danese, No, España
Hakech mohamed, Voie démocratique Ouvrière , MAROC
Hakim Adi, University of Chichester , United Kingdom
Hans Jørgen Mala Milde, Norwegian Communist Party, Norway
Héctor Díaz-Polanco, Congreso de la Ciudad de México , México
Héctor José Cardoza candelas , Concejo municipal libertador estado Aragua , Venezuela
Hector Lopez, soy un individuo., United States of America
Helali, Party of Communists USA, United States of America
Hendrik Van den Berg, University of Massachusetts Amherst, United States of America
Henrique Venâncio dos Reis, Faculdade de Direito Universidade de Lisboa, Portugal
Henry Lowendorf, U.S. Peace Council, United States of America
HERNANDO HERNÁNDEZ TAPASCO, Resguardo Indígena de Origen Colonial Cañamomo y Lomaprieta, Colombia
Hilda Guerrero, Comuna Caribe , Puerto Rico
Hilda Guerrero, Comuna Caribe , Puerto Rico
Hilda Guerrero, Comuna Caribe , Puerto Rico
Hilda Guerrero , Comuna Caribe , Puerto Rico
Hindu Anderi, Activista pro Derechos Humanos , Venezuela
Hugo Bruno Mombach , Rede La Salle de Educação , Brasil
Hugo Chimenes, STI Alimentação de São Borja/RS, Brasil
I strongly reject any intervention attempt of US imperialism in Haiti., University of Havana, Cuba
Ígor Rodríguez Iglesias , Universidad Autónoma de Madrid , España
Ildo Perondi, Professor, Brasil
Inés García , No aplica, Puerto Rico
IONADIR RODRIGUES CORREA JUNIOR, MST, BRASIL
IRIS PICO ARREGUI, FUNDACIÓN CULTURAL ARTIS, Ecuador
Irvin Sosa, RIPESS MÉXICO , México
Isaac Ruiz Sánchez , Centro de Estudios Sociales y Publicaciones , Perú
Isabel del valle Rencifo Puerta , Partido PSUV, Venezuela
Isabel del Valle Rengifo Puerta , JEFE DE UBCH , Venezuela
Isabel Lopex, Resp. Logia Femenina Julia de Burgos, Puerto Rico
Isidoro Moreno Navarro, Universidad de Sevilla, España
Isidro Ramírez, Unearte, Venezuela
Isis Amador , Junta de Prietas , República Dominicana
Isleyes del Carmen Alfonsi Tirado , Partido Socialista Unido de Venezuela , Venezuela
Ismael Parra, NWU *National Writers Union, United States of America
Ivan Kotzur, Western Sydney University, Australia
Ivanita A Prado, PMSP, Brasil
IVETE MARIA CARIBE DA ROCHA, Serpaj , Brasil
Ivone Gebara, Ceseep centro ecumenico de educação popular, Brasil
Jack R. Williams, MIT, United States of America
Jack Wallace, PSL, United States of America
Jackson Fernando Rêgo Matos, UFOPA, Brasil
Jacob Brown, Cornell University, United States of America
Jacob McCarty, N/A, United States of America
Jacqueline Tamara Gomez, Frente Patria Grande, Argentina
Jaime Aranovich Neto, Indivíduo (sem instituição), Brasil
Dr. Jaime Inclan, NYU scvhool Medicine, Puerto Rico
Jake Miller, Fordham University , United States of America
Jalessah Jackson, Decolonial Feminist Collective, United States of America
James Dell'Antonia de Oliveira , Independiente, Brasil
James Early, None, United States of America
James Field, Lamplands, Italy
Jane Bauer , PT, Brasil
Janine Solanki, Mobilization Against War and Occupation (MAWO) Canada, Canada
Janvieve Williams Comrie, AfroResistance, Americas
Jaquelin María Ladeutt Herazo, Fundación Manantiales de Luz, Colombia
Jaqueline Gomes de Jesus, Brazilian Association of Trans-Homoculture Studies – ABETH, Brazil
Jared A. Loggins, Amherst College, United States of America
Jarlete Froes de Aguilar Galli, Por um Haiti livre e soberano, Brasil
Jarlete Froes de Aguilar Galli, MST, Brasil
Jasmine Scott, Independent, Estados Unidos
Dr. Jason Ferreira, College of Ethnic Studies, San Francisco State University, United States of America
javier arjona, Pachakuti, Asturies
Javier Tolcachier, Centro de Estudios Humanistas de Córdoba, Argentina
Jawad R. Shakir, Shakir and Associates LLC, United States
Dr. Jayson J Funke, Institute of Human Geography, United States of America
Jean Luc Pelletier, Amis du MST – France, France
Jean Tate, Grenada-Forward Ever!, United Kingdom
Jeanine Maland, – Select -, United States
Jennifer Ponce de León, University of Pennsylvania, United States of America
Jennifer Sullivan, Hernando County Green Party, United States of America
Jenny Griffyn, Individual , Australia
Jes Hanzelkova , Artist, Canada
Jes Young, artist, United States
Jessica Hubner, N/a, United States of America
Jesús M. Morales Irizarry, Comisión de Derecho Ambiental y Recursos Naturales, Colegio de Abogados y Abogadas de Puerto Rico, Puerto Rico
Jim Dorenkott, VFP, United States
Jimmy Vasiliou, Housing Justice Coalition CLT, United States of America
Joan P Gibbs, National Conference of Black Lawyers, United States of America
João Carlos de Campos, MST, Brasil
Joao Gabriel , Johns Hopkins University, United States of America
João Guilhermino Prieto Félix, Cidadão Brasileiro, Brasil
João Pedro Mucheroni Covolan, Nenhuma, Brasil
Jocelyn Velázquez , Jornada Se Acabaron Las Promesas , Puerto Rico
Dr. Jodi Dean, Professional, Hobart-William Smith Colleges, United States of America
Jodie evans, CODEPINK, United States of America
Jodie Evans, CODEPINK, United States of America
Joelson Santos Silva , Movimento Sem Terra e Rede Nacional de Medidas e Médicos Populares , Brasil
Joey Jacobshagen, Green Party of Florida, United States of America
JOHN CONSIDINE, University of Oxford, alumnus, United Kingdom
john ederer, MCC, United States of America
John McEvoy, Declassified UK & others, United Kingdom
John Ross, No Cold War, Britain
John Wann-Angeles, self, United States of America
Johnny Colon, Latinos In Power Organization, United States of America
Jon McFarlane, VOCAL-NY, United States
Jonathan Alingu, CFJWJ, United States of America
Joni Adolfo Muller , ciudadano, Brasil
Jordan Michel-Muniz, Social activist, Brazil
Jorge Alberto Kreyness , Partido Conunista, Argentina
Jorge Cantor , Asociación para la Unidad de Nuestra América , Argentina
Jorge Drkos, Frente de Todos – Transversal , Argentina
Jorge Falcone, OLP Resistir y Luchar, Argentina
Jorge González Nuñez , Movimiento Estudiantil Cristiano de Cuba , Cuba
Jorge L. Colón, University of Puerto Rico, Puerto Rico
JORGE MELLO DE ALBUQUERQUE , PESSOA FÍSICA , BRASIL
JOSE CLAUDIO CAMACHO, Ninguna, BRASIL
jose frias, Comite Oscar Romero – Sicsal Chile, chile
José Hernández , UPV, Venezuela
José Luis Pineda Acosta , Pensionista, España
Jose Macario dos santos filho , Sem organização , Brasil
José Manuel Lapeira Casas, Journalist, Cuba
José Maria Tardin, MST, Brasil
JOSE MAURICIO PEREIRA, Aposentado, Brasil
Jose Nunez Jr, PRN, United States of America
José Renato Vieira Martins, UNILA, Brasil
José Salvador Cárcamo , Cátedra Libre Salvador Allende – UBA , Argentina
Dr. Jose Seoane, GEAL – IEALC – UBA, Argentina
José Vicente del valle Mattibez, Adhiero al documento ex preso político , Argentina
Josefa Alexandrina Silva, ABECS-UR SP, Brasil
Josenilde do Carmo Almeida, MST, Brasil
Joshua Bishop, The Black Alliance for Peace, United States of America
Joshua Michael Carson, Party for Socialism and Liberation, United States of America
Joshua Schultheiss, People's Forum, United States of America
Jovanni L Reyes , ABOUT FACE:Veterans Against the War , United States of America
Jp, Self, Belgium
Juan Carlos Lopez Elias , Senado de la República , México
Juan Carlos Vecino Janavel , Conexion Latinoamericana , Brasil y Uruguay
Juan José López y López , Nación Andaluza, Granada
Juan Manuel Gómez Cardona , Centro de Pensamiento y Diálogo Político , Colombia
Juan Manuel ruppel , COOPERATIVA CAMPESINA, Argentina
Juan Martin Fajardo, Federación Rural, para la producción y el arraigo, Argentina
Juana Recinos, Personal, México
Jubileo Sur/Américas , Organización , Latinoamérica y Caribe
JUCELENE SANTANA ROCHA, Jubileu Sul Brasil, Brasil
judith ackerman, uft, United States of America
Judith Heredia , Museo de antropología , Venezuela
Julia María Fernández Trujillo , CMLK, Cuba
Julián Aguirre, Secretaría de Relaciones Internacionales de la CTA Autónoma, Argentina
Julie Leak, WIFP, United States of America
Julie Rowan-Zoch, Select…, United States of America
Julio César Díaz Romero , Asociación Chilena de Amistad con la RASD, Chile
Júlio Telesca Barbosa , Apoio a livre autodeterminação do Haiti. , Brasil
Justin Vest, None, United States of America
KAJKOJ MAXIMO BA TIUL, Centro de Reflexiones Nim Poqom, Guatemala
Kallyn Krash, The Granny Peace Brigade, United States of America
Kandis Sebro, Oilfields Workers' Trade Union, Trinidad y Tobago
kara lynch, Hampshire College/Hunter College, United States of America
Karen Jessenia Gutiérrez Alfonso , Partido Comunes Cundinamarca , Colombia
Karen T. Morales, Individual., United States of America
Karin Nansen, Redes Amigos de la Tierra Uruguay , Uruguay
Karla Correa, Party for Socialism and Liberation, United States of America
Karyn Hollis, Villanova University, United States of America
Kate Paarlberg-Kvam, Community Asylum Seekers Project, United States
Katherine Pagtama, N/A, United States of America
KATHERINE ROSELIN URIBE AVILA , Poder popular , VENEZUELA
Katia Marro, DOCENTE UFF, Brasil
Katie Spencer, Student, United States of America
Kelsea Suarez, Colorado Law School, United States of America
Kelvin Getuno , S.I Unit Digital , Kenya
Ken Jones, , United States of America
Kenn Leonard, Solo Act, United States of America
Kenyatta Barthelemy, Southern University Law Center, United States
Dr. Kerby Miller, retired college teacher, United States of America
Kevin A. Young, University of Massachusetts Amherst, United States of America
Khow Tong Chee, Parti Sosialis Malaysia, Malaysia
Kimberly Gissela Valencia Huertas, Colectiva Matamba Acción Afrodiasporica, Colombia
Kirenia Criado Pérez , Centro Memorial Dr Martin Luther King, Jr., Cuba
Kirstie Ganobsik, Green Party, United States of America
Kwabena Shakur, Africa United SC, Germany
Lair Figueiredo Trugilho, Universidade Federal de Viçosa, Brasil
Laiyonelth Hurtado, Vocalmente Visibles , United States
Laudelino Ferreira, BC, Brasil
Laura Bilbao , Movimiento de Mujeres y Diversidades Indígenas por el Buen Vivirp, Argentina
Laura Capote, Coordinación Política y Social Marcha Patriótica, Colombia
Laura June Xavier , Nenhuma, Brasil
Laura Moreno, None, Germany
Laura Vo Pham, NAC, United States
Lautaro Leveratto, Federación Rural para la producción y el arraigo, Argentina
Léa Francesconi, Universidade de São Paulo, Brasil
Leandro Albani, Periodista, Argentina
Lee Camp, N/A, United States of America
LEILA BEATRIZ SEMANA, Por um Haiti livre de intervenção!, Brasil
Leonardo Barboza Farias Severo, Movimento Brasil Popular, Brasil
Leonardo Herrmann ., FEDERACIÓN INTERNACIONAL DE ESCRITORAS Y ESCRITORES POR LA LIBERTAD , Argentina
Leonie Rushforth, individual , United Kingdom
Leora Naomi Ovadia, none, United States of America
Lesbia Muro, UCV, Venezuela
Lesbia Sánchez , Concejala municipio Bolivariano Libertador PSUV , Venezuela
Lesbia Sánchez , Psuv, Venezuela
Leslie Vazquez, N/A, United States of America
Lewis H Siegelbaum, Michigan State University, United States of America
Lic. Juan Contreras , Coordinadora Simón Bolívar , República Bolivariana de Venezuela
Lic. Juan Contreras , Coordinadora Simón Bolívar , República Bolivariana de Venezuela
Lido Egisto Iacomini, Participación Popular, Argentina
Lilia Maria Ferrer Morillo, Movimiento de Migrantes de Argentina, Argentina
Lisa Lowe, Yale University, United States of America
Lisa Nussey, Hamilton Social Medicine Response Team (HAMSMaRT), Canada
Livia Milagros Salcedo de Diaz, Comité de tierras Urbanas y jefa de UBCH, Venezuela
Livia Morena Brantes Bezerra, Movimento Brasil Popular, Brasil
Liza Featherstone, Jacobin, United States of America
Liza Kis, Universidad de Osnabrück , Alemania
Lizzie Adams, Green Party, United States of America
Llanisca Lugo, Centro Martin Luther King, Cuba
Lois Wilcken, La Troupe Makandal, United States of America
Loise Pereira Smaniotto, Hospital Nossa Senhora da Conceição de Porto Alegre, Brasil
Lorena Ardito Aldana, CECLA U. Chile /UAHC, Chile
Lorenzo Canizares , Labor Community Alliance of South Florida (LCA), United States of America
LOURDES C REVERON, Partido socialista Unido de Venezuela, Venezuela
Lucas Cifuentes , Izquierda Libertaria , Chile
Luci Murphy, Claudia Jones School, Washington, DC, United States of America
Lucia Alvites, La Junta, Perú
Lucía González Santos, Academia María Reina, Puerto Rico
Lúcia Ortiz, Amigos da Terra Brasil, Brasil
Luciane Maria Cassol , UFRGS, Brasil
Luena Nascimento Nunes Pereira, Universidade Federal Rural do Rio de Janeiro, Brasil
Luis Alonso Abarca González , Comité de Derechos Humanos de Base de Chiapas Digna Ochoa , México
Luis Carlos Bernal Restrepo, Paz Christi, Medellín, Colombia
Luis Emilio Aybar Toledo , Proyecto Nuestra América , Cuba
Luis Javier Angulo Talavera, Comité Oscar Romero de la Amazonía Peruana, Perú
Luis Méndez, Mesa 11 de Dialogos Alternativos, Honduras
Luis Miguel Badaraco , Músico , Venezuela
Luis Niño, Universidad de Buenos Aires, Argentina
Luisa Vivanco, Derechos Humanos , Argentina
Luiz Alberto Sant'Anna de Castro, nenhuma, Brasil
Luiz Carlos Padilha Puttkammer , Sindicato dos Swrvidores Públicos da Alesc , BRASIL
Łukasz Kozak, Akcja Socjalistyczna, Poland
Luna Olavarria Gallegos, N/A, United States of America
Dr. Luqman-nul Hakim, Universitas Gadjah Mada, Indonesia
Luz Rodriguez, Party For Socialism and Liberation, USA
Lyle McCormick, Party for Socialism and Liberation, United States of America
Dr. Maarten de Kadt, Independent , United States of America
Magda Amara Lashley Olivares , CMLK , Cuba
Magdalena Sophia Oliveira Pinheiro Villar de Queiroz, -, Brasil
Magha Garcia Medina, Org.Borucuà, Puerto Rico
Maigualida Rivas, Colectivo ALBA-TCP Francia, Francia
Maira Carolina lopez, PSUV ubch, Venezuela
Manu Karuka, Barnard College, United States of America
Manuel Basualdo, SOBREVIVENCIA, Amigos de la Tierra Paraguay, Paraguay
Manuel Bertoldi, Patria Grande / ALBAmovimientos, Argentina
Manuel F O'NEILL, Friends of Puerto Rico Initiate , United States of America
Manuel Hernández , PSUV , Venezuela
Manuel Martínez , Agenda Solidaridad, RD, República Dominicana
Manuel Pardo, Frente Antiimperialista Internacionalista, Spain
Marcela De Witt , Activista de Yemen por los DDHH , Chile
Marcela Lorenzo Perez, Agrupación Xango, Argentina
Marcelo Ângelo Calegari da Silva, Cidadão comum , Brasil
Marcelo Campelo Teixeira, -, Brasil
Marcelo Chalreo, Comissão de Direitos Sociais / Ordem dos Advogados Rio de Janeiro, Brasil
marcelo pavao, particular, Brasil
Marcelo Roberto Camargo, -, Argentina
Marcelo Sampaio de Alencar, Iecom, Brasil
Marcelo Vargas da Silva , IFRS, Brazil
Marco Antônio Baratto, MST, Brasil
Marco Antônio Ferraz Sant'anna , Mst, Brasil
Marcos Lombardi Cuzzi , Sutcra , Uruguay
Marcos Sebastião Costa, MST – Brasil, Brasil
Marcy Shapiro, Haiti Justice Committee of Minnesota, U.S.A.
Marene Machado Marchi, Sem organização , Brasil
Dr. Margaret Gray, Adelphi University, United States of America
Margaret MacDonald Power, Illinois Institute of Technolo, United States of America
Margaret Stevens, Essex County College, Working People Have No Nations
Maria Aldenice Cordeiro da Silva , Humanista, Brasil
María Antonia Rubio Verde, Comité de solidaridad América Latina de Gijon , España
Maria Aparecida Dellinghausen Motta, Coordenadora da Coleção "Ciranda de Letras" – Ed. Autores Associados., Brasil
Maria Celeste Martins, nenhuma, Brasil
Maria Célia Borghi, Autônoma, Brasil
Maria da Graça Andrade , Unicamp, Brasil
MARIA DAS NEVES VALENTIM, FÓRUM MUDANÇAS CLIMÁTICAS E JUSTICA SOCIOAMBIENTAL-NÚCLEO RN, BRASIL
Maria de Fatima Ferreira Prazeres , Prefeitura do Rio de Janeiro , Brasil
Maria de Jesus Amorim Farias , Brasil , Brasil
María de la Paz Regueiro Liste, Partido Socialista Unido de Venezuela, Venezuela
María del Carmen Mendoza Bobadilla, Personal, México
Maria do Rocio Fritzen , Aposentada , Brasil
Maria Elena Saludas , ATTAC – Argentina/ CADTM- Ayna , Argentina
María Elena López Gallardo, "Compañía de María", México
Maria Estélia De Araújo, MST, Brasil
Maria Francisca Rubio Diaz, CODEFF, CHILE
María Hidalgo Quesada, Personal, Costa Rica
Maria I de la Luz Rivas , Partido del Trabajo , México
Maria Inês Amarante, Professora aposentada, Brasil
Maria Inês Escobar da Costa, Universidade Federal do Ceará, Brasil
Maria Isabel Barbosa , Psicóloga autônoma , Brasil
María José Trujillo Escobar , Solanda Sorora , Ecuador
María Paz Espinosa Peña, Colectivo Wila Pacha, Arica
Maria Verônica Avelino, ANEPS – RN/Movimento Laudato Si – RN, Brasil
María Victoria Caro Bernal, Presidenta Sección de Literatura, Ateneo de Madrid, España
Marialejandra Molina Uzcategui, Asamblea Nacional, Venezuela
Mariana Cabral Gonçalves , MST, Brasil
Maribel Núñez, Acción Afro-Dominicana, República Dominicana
Maricel Lilian Berón , UNR, Argentina
Maricsr, Maricarmen Montes, México
Marilin Peña Pérez, Centro Martin Luther King Jr, Cuba
Marilin Peña Pèrez, Centro Memorial Dr Martin Luther King, Cuba
Mario Nei Pereira Batista , Mst, Brasil
Marion Phyllis Cunningham, resident of NYC, United States of America
Maritze Trigos Torres , Mesa Ecuménica por la paz , Colombia
Marjorie Cohn, International Association of Democratic Lawyers, United States of America
Mark GInsburg, University of Maryland, United States of America
Marlena Santoyo, WOMEN'S INTERNATIONAL LEAGUE FOR PEACE AND FREEDOM, United States of America
Marta Alejandra Speroni, Movimiento de Solidaridad con Cuba, Argentina
Marta Jiménez, UCM, Spain
Marta Krawczuk , —-, Argentina
Martha Allen, Women's Institute for Freedom of the Press, United States of America
Martha Biondi, Northwestern U, United States of America
Martha Flores , Intipachamama , Nicaragüa
Martha Flores , Jubileo Sur/Américas , Nicaragüa
Martha L Schmidt, National Lawyers Guild, United States of America
Martha Raquel Rodrigues, MST, Brasil
Martin Halpern, Henderson State University , United States of America
Martín Ogando, Soberana – Izquierda Popular , Argentina
Martin Victor Ramsey, DSA, IBEW, Teamsters, United States of America
Maruf Chaven, Partido Socialista Unido de Venezuela, Venezuela
Maryeli Tibisay Quintana, Psuv, Venezuela
Mateo Correa, Unaffiliated , United States of America
Matt Hunter, , United States
Dr. Matteo Capasso, Columbia University , Italy
Matthew McLaughlin , Myself , Ireland
Maura Margarita Márquez , Madres del Mundo por la Paz de los Pueblos , Venezuela
Maureen McCarthy , SEIU , USA
Maurely Colmenares , Ubch, Venezuela
Mauricio Benedito Falleiros, Cidadânia, Brasil
Mauricio Dutra Garcia, Particular, Brasil
Mauro Leão, Nenhuma, Brasil
Max Elbaum, Convergence Magazine, United States of America
Max Shue, Party for Socialism and Liberation , United States of America
Mayra Zamaniego López , Casa Tecmilco, México
Dr. Melanie E L Bush, May First Movement Technology, United States of America
Dr. Michael Karadjis, Western Sydney University College, Australia
Michael Neocosmos, Rhodes University,, South Africa
michael scahill, surj toronto, canada
Michelle Ellner, CODEPINK, Estados Unidos
Mikaela Erskog, Tricontiental: Institute for Social Research, Sweden
Mike Zendejas, PSL, United States of America
Milagros Rivera Pérez, Comité de Solidaridad con Cuba, Puerto Rico
Mirian Arcanjo Vieira de Almeida , Pessoa física , Brasil
Monica Dias Martins, Universidade Estadual do Ceará, Brasil
Monica Dias Martins, Universidade Estadual do Ceará, Brasil
Mônica Madoré, particulier, France
Moreira Morales Jonny Willian, Afrodescendientes candomberos de la costa, Argentina
Morgan Richmeier, Party for Socialism and Liberation, United States of America
Movimiento de Integración y Emancipación de Derechos Humanos del Sur (MOVIEDHS), Organización de DDHH, Venezuela
Mykeyly Ramírez Guevara , Sindicato de Energía y Minas, Cuba
Myriam Fracchia , Serpaj México , México
Myriam López, Unla Lic. Justicia y ddhh , Argentina
Nadia Servilha Rodríguez, particular, España
Nadson Ayres dos Santos , MST, Brasil
Naile Figuera, Central Bolivariana Socialista de Trabajadores y Trabajadoras de la Ciudad, el Campo y la Pesca de Venezuela, Venezuela
Nanci do Carmo Alves Garrido , Psicóloga , Brasil
nancy adellman, granny peace brigade, United States of America
Naomi Imbrogno, Jewish Voice for Peace, United States of America
Naomi R Williams, Rutgers University, United States of America
Natacha giusto, Las cerillas org, Argentina
Natalia Marques, Peoples Dispatch, United States of America
Natalia Salvatico, Tierra Nativa / Amigos de la Tierra Argentina, Argentina
Nathalie Charles , Haïtienne , United States of America
Dr. Nathaniel George, SOAS, University of London, United Kingdom
Naweedah Naqvi , None , England
Dr. Nazia Kazi, Stockton University, United States of America
Neil Balan, SMU, MSVU, WLU , Mi'kma'ki
Dr. Neil Harvey, New Mexico State University, United States of America
Nelson Medeiros Franke , Citizen, Brasil
Neptali Parra, Federación Bolivariana socialista de trabajadores y trabajadoras de la ciudad el campo y la pesca de Aragua, Venezuela
Nicholas Glastonbury, Fordham University, Department of Sociology and Anthropology, United States of America
Nico Jo Grace, Memphis for Revolutionary Socialism, United States of America
Nicolas Cruz Tineo , Instituto de Desarrollode la Economía Asociativa (IDEAC), República Dominicana
Nidia Arrobo Rodas, FUNDACIÓN PUEBLO INDIO DEL ECUADOR, Ecuador
Nidia Arrobo Rodas, FUNDACIÓN PUEBLO INDIO DEL ECUADOR, Ecuador
Nidia Arrobo Rodas, COMISIÓN DE PUEBLOS ORIGINARIOS Y AFRODESCENDIENTES, ABYA YALA
Nidia Arrobo Rodas, COMISION PUEBLOS ORIGINARIOS Y AFRODESCENDIENTES, Ecuador
Nidia Maria Lienert Lubisco, UFBA, Brasil
Nila Heredia, Asociación Latinoamericana de Medicina Social , Bolivia
Nilda Ramos de Oliveira, Missionárias de Jesus Crucificado, Brasil
No estoy de acuerdo con intervención alguna en Haití , CMLK, Cuba
Noah Kulwin, Co-host, Blowback Podcast, United States of America
Noah Leininger, Candidate of the Party for Socialism and Liberation for Indiana State Representative, District 90, United States of America
Nonnel Galaviz-Johnson, N/A, United States of America
Nora Cortiñas, Madres de Plaza de Mayo-Línea Fundadora, Argentina
Nora Isabel Freites, Docente Jubilada, Argentina
Núria Ramos Geli , La Xarxa , España
Nydia Leaf, Ms.Educ., Granny Peace Brigade, NYC, United States of America
Observatorio por el Cierre de la Escuela de las Américas – Chile, Observatorio por el Cierre de la Escuela de las Américas – Chile, Chile
Oliana Circus, OlianaCircus, USA
Oliver Martin, N/A, United Kingdom
Olivia Sonell, N/A, United States of America
Olúfẹ́mi O. Táíwò, Georgetown University, United States of America
Omar Hurtado Rayugsen, Centro Nacional de Historia, Venezuela
Omar Leon, Caribbean Labour Solidarity, United Kingdom
Ongd AFRICANDO, Ongd AFRICANDO, España
Ongd AFRICANDO, Ongd AFRICANDO, España
ORAILENE MACCARRI DÁZ, CAMPESINA, Venezuela
OSCAR HERNANDO AVELLANEDA DUEÑAS, COLOMBIAN COMUNIST PARTY, COLOMBIA
Oscar Leonardo Hernández Aldana , Oriente Vivo , Colombia
Osmar Xavier León Paez , Independiente , Venezuela
Oswaldo jesús Tona Rivero , Movimiento pedagógico Revolucionario, Venezuela
Otis Cunningham, Chicago Steering Committee to Normalize Relations with Cuba, United States of America
Oton Monteiro del Deus, MST , Brasil
Otsieno Godrick, The Socialist Workers Movement of Kenya, Kenya
Owen Hughes, Caravan for Cuba Montréal, Canada
Ozzi Warwick, Joint Trade Union Movement, Trinidad y Tobago
Pablo A. de la Vega M., Centro de Documentación en Derechos Humanos "Segundo Montes Mozo SJ" (CSMM), Ecuador
Pablo A. de la Vega M., Centro de Documentación en Derechos Humanos "Segundo Montes Mozo SJ" (CSMM), Ecuador
Pablo Fajardo Mendoza, UDAPT, Ecuador
Pablo Navrrete, Alborada / Alborada Films, United Kingdom
Paola Giraldo Herrera, UNIFESSPA , Brasil
Paolo Cicuttin, SPI (CGIL), Italia
Patricia Becker, Black Alliance for Peace Solidarity, United States of America
Patrícia Pereira Paulino, Universidade Federal de Minas Gerais, Brasil
Patrick Cuninghame , La Sexta Obrera, México
Patrick Manning, University of Pittsburgh, United States of America
Paul J. Zickler, Washington Education Association (Retired), United States of America
Paul McNeilly, N/A, United Kingdom
Paul Wapnowski, None, United States
Paula Andrea Polanco Palacio, intal, Belgica
Paula Klachko, Red de Intelectuales t Artistas en Defensa de la Humanidad , Argentina
Paulo Leonardo Souza, sociedade civil, Brasil
Paulo Taves, Nações Unidas , Brasil
Pawel Wargan, Progressive International, Poland
Pedro Cesar Batista, Comitê antiimperialista general Abreu e Lima, Brasil
Pedro García , Comunicador , República Dominicana
Pedro Ivan Christoffoli, Núcleo de Estudos em Cooperação – NECOOP/UFFS, Brasil
Pedro Luis Vivas Salinas , Gerente de Asuntos Públicos de PDVSA , Venezuela
Pedro Vargas , Coalición de Tendencia Clasista CTC-VZLA , Venezuela
Penélope Alsina , Madres del Mundo por la Paz de los Pueblos-Unamujer, Venezuela
Percy Alexander Ruffin, University of Virginia , United States of America
Peter Goselin, Green Party of Connecticut, United States of America
Peter Hallward, Kingston University London, United Kingdom
Peter McLaren, Chapman University, United States of America
Pierre- Louis NICOLAS , TEKATEPLA.( Tèt. Ole ti peyizan Tirivyè Latibonit , Haïti
pit schultz, reboot.fm, Germany
Pizzar Stanley PIERRE , Youngo, Germany
Por una Haití Libre y Soberana, Grupo Inucial, Venezuela
Prisca Gayles , University of Nevada, Reno , United States of America
Prof. Manu Chander, Rutgers University-Newark, United States of America
Professor , Cal Poly Humboldt , United States of America
Purbasha Sarkar, LeftWord Books, India
Rachel Milner, N/A, United States of America
Rafael Barrantes , Colectivo Comunicacional La Voz Chavista., Venezuela
Rafael Stedile , Fotografo independiente, Brasil
Rashid Khalidi, Department of History, Columbia University, United States of America
Rebeca Zúniga-Hamlin, Denver Justice and Peace Committee (DJPC), Estados Unidos
Rebecca Newlin, Interfaith Center at Miami University, United States of America
Rebecca Rich , n/a, United States of America
Rebecca Tarlau, Pennsylvania State University, United States of America
Reece Garcia, Manchester Metropolitan University, United Kingdom
Regina Celi Dias dos Santos, Missionárias de Jesus Crucificado, Brasil
Reginaldo Sandoval , Diputado federal del PT México , México
Remi Gotardo Casagrande , Diocese de Caxias do Sul RS , Brasil
Remi Gotardo Casagrande , Diocese católica Caxias do Sul RS , Brasil
Renato L Martinelli, Escritor, Brasil
Rene Epstein, Ninguna, Argentina
Renée Ahualli, Lic. Renée Ahualli, Argentina
Rev. Dorlimar Lebron, FSUMC The Peoples Church, United States of America
Rev. Dr. Liz Theoharis, Kairos Center for Religion, Rights and Social Justice , United States of America
Ricard Sánchez Andrés, SOS Ribagorza, España
Ricarda Heinz, Sistatalk Hamburg, Deutschland
Ricardo A. Bracho, University of Pennsylvania, United States of America
Ricardo Molina Peñaloza, Asamblea Nacional, Venezuela
Richard Benavides , BRICS PSUV , España
Richard Lee, Assembly of Caribbean People, The Wider Caribbean
Dr. Richard MacMaster, Interfaith Alliance for Immigrant Justice, United States of America
Richenda kramer, Granny Peace Brigade, United States of America
Dr. Rico Gutstein, University of Illinois, Chicago, United States of America
Rita de Cássia Lima , Jubilada, Brasil
Robert BÁnvölgyi, Particular, Brasil
Robert Buzzanco, University of Houston, United States of America
Robert Green, Private citizen , Zimbabwe
Roberto Clodoaldo Mesquita de Sena , MST, Brasil
Roberto Lovato, The Writers Grotto, United States of America
Robin D. G. Kelley, UCLA, United States of America
Robin Harris, Green Party, United States of America
Rodolfo Valentim Machado, Associação Nacional dos Empregados da Dataprev, Brasil
Rodrigo Andres Alvarez Galindez , Unión Patriótica , Colombia
Rodrigo Loyola , Movimiento del Socialismo Allendista , Chile
Rogelio III Maldonado Rivera , Jornada Se Acabaron Las Promesas , Puerto Rico
Romain Migus , Les 2 Rives , Francia
Ronaldo Ortiz , FRENADESO, Panamá
Ronaldo T Pagotto, Mov. Brasil Popular, Brasil
Rosa Cañadell Pascual , Socialismo21, España
Rosa Moura, Pesquisadora independente , Brasil
Rosalinda Chanagá , Foro Itinerante, Venezuela
Rosane Leite Botelho , Assembleia Popular na Cinelândia , Brasil
Rosaura Sanchez, University of California, San Diego, Professor Emerita, United States of America
Rose Brewer, University of Minnesota, United States
rose maria bossoni de moura, particular, Brasil
Roseki Flori , Independentemente , Brasil
Dr. Rosemari Mealy, Interreligious Foundation for Community Organization (IFCO) Board Member, United States of America
Roy Daza, Psuv, Venezuela
Rucardo Felippe AJURICABA TUPINAMBÁ, LAMAS, Pindorama
Rudy Loewe, N/a, United Kingdom
Ruth Rodríguez, Frente Argimiro Gabaldon, Venezuela
Ryan Napoli, Activist News Network, USA
Saimy Alba Rodríguez , Red de educadores/as populares, Casa del Escritor, Cuba
Saimy alba Rodríguez , Red de educadores/as populares, Cuba
Saimy Alba Rodríguez , Red de educadores populares, Cuba
Saint Hylaire Louis XVI , Frente Nacional de los Países Hermanos , Venezuela
SALAMI Nidol Ishola , Parti Communiste du Bénin , Bénin
Saliha Nazir, Union College, United States of America
Sally Ortiz Castro, Huerto Vida, Puerto Rico
Salvador de la Cruz Elías , Huerto Comunitario Agroecológico , Puerto Rico
Salvatore Engel-Di Mauro, SUNY New Paltz, United States of America
Samuel Dickey, None, U.S.
sanchez fermin, Mvc, PR
Sanchez Quiroz, Casa Tecmilco, México
Dr. Sandra Drake, Professor Emerita, Stanford University (identification only), United States of America
Sandra Espinoza, Intipachamama, Nicaragua
Santiago del Hierro , Personal, Ecuador
Santiago Liaudat, Red placts y unlp, Argentina
Sarahi Mahe Couso Fernández , Centro Memorial Dr. Martin Luther King, Cuba
SÁVIO NUNES BONIFÁCIO , Civil , Brasil
Sayonara Tamayo Arjona, Centro Memorial Martin Luther King, Cuba
Scott vandisen, friend, Japan
Seleme Isaac Seleme Júnior, UFMG, Brasil
Selma Barbosa de Souza, Sociedade civil , Brasil
Sérgio Ramos Favarini, cidadão progressista, Brasil
Shaheen Khan, Socialist Revolutionary Workers Party, South Africa
Sharon and William Griffner , NA, United States of America
Sharon Kusmirek , United Nations Association of Greater Milwaukee, United States of America
Sidneyfer juanifer Tovar arevalo , PSUV , Venezuela
silmara campos, cidadã brasileira, Brasil
Silvia Martínez del Río, Colectivo Audiovisual Vocesdamerica, Uruguay-Brasil
Silvia Quiroa, CESTA Amigos de la Tierra El Salvador, El Salvador
Silvina Lazarte , Corriente Pueblo unifo, Argentina
Simon Korner, Labour Party, United Kingdom
sinia benigassan, Bureau d'information Alba Granada north Africa, Tunis
Sirlene Araújo Dias, Cooperativa Habitacional Central do Brasil, Brasil
Skye O'Toole, Democratic Socialists of America, United States of America
Sonia Maria Coquillard Ayres Homena , Colégio Pedro II, Brasil
Sonia Regina de Mello Pereira, Secretaria da Agricultura, Pecuária e Desenvolvimento Rural/RS, Brasil
Sophie Davis , University , United States of America
Stalone Fermino Machado , MST, Brasil
Dr. Stephen McFarland, CSU Dominguez Hills, United States of America
Sterling Johnson, Philadelphia Housing Action, United States of America
Steve Rutchinski, Marxist-Leninist Party of Canada, Canada
Sulyiman Stokes, BAP, United States of America
Susan Buck-Morss, CUNY Graduate Center, United States of America
Susana Peñafiel Acosta , Centro de Documentación en Derechos Humanos "Segundo Montes Mozo SJ" (CSMM), Ecuador
Tahis Peña, Lic. En Educación , Venezuela
Tamara Pearson , Author, journalist, Mexico
Tanalís Padilla, Massachusetts Institute of Technology, United States of America
Dr. Tanzil Chowdhury, Queen Mary, University of London, United Kingdom
Tatiana Rodríguez Maldonado, Censat Agua Viva – Amigos de la Tierra Colombia, Colombia
Taylor Augustin, n/a, United States of America
Teddy Adeola, Liberate Detroit, United States of America
Telma cristina da Silva , Sindicato, Brasil
Teresa A Meade, Union College, Emeritus, United States of America
Teresa M. de Hostos Olivar, N/A, Puerto Rico
Thalles Gomes, Abogado, Brasil
Themis Hanoi Salaya Miranda, Movimiento Madres del Mundo por la Paz de los los Pueblos, Venezuela
Theodora Pappas, Retired. Jackson Health System, Miami, Fl. , United States of America
Theresa El-Amin, Southern Anti-Racism Network, United States of America
Thiago Cruz Rico, Partido Comunista Brasileiro (UJC), Brasil
Tim Vatovec, SUNY New Paltz, United States of America
Dr. Timothy Havel, Mass Peace Action, United States of America
Tina Liakopoulos, concerned citizen, Canada
Tings Chak, Tricontinental: Institute for Social research, China
Dr. Tomomi Kinukawa, San Francisco State University, United States of America
Travis Trimmer, Travis Trimmer , Sweden
Ubch escuela basica nacional santa rita, Ubch, Venezuela
Ujju Aggarwal, The New School, United States of America
Ulla Klötzer, Women Against Nuclear Power – Finland, Finland
VALDINEA LESSA CAMACHO, NINGUNA, BRASIL
Valerie Eaton, Party for Socialism and Liberation, United States of America
Van Gosse, Franklin & Marshall College, United States of America
Vera Lucia Granado da Silva , Pessoa física , Brasil
Veríssimo Antônio Mendes Júnior , MST, Brasil
Veronica guerin, -, Argentina
Victor Jesús Reyes Espinoza , Asociación civil para la educación popular Ezequiel Zamora , Venezuela
Vighanesh Shirke, India, India
Vijetha Ramajayam, The People's Forum NYC, NYC PSL, United States of America
VINICIUS BINDÉ ARBO DE ARAUJO, PCdoB – Partido Comunista do Brasil, Brasil
Virgínia Fontes, Universidade Federal Fluminense, Brasil
Vivek Venkatraman, Party for Socialism and Liberation, United States of America
Vlada Tomova, Yasna , United States of America
Dr. Walaa Alqaisiya, Columbia university , Italy
walter escobar, ALBA (Ottawa), Canada
Walter Goodman, WRL, United States of America
Walter Johnson, Harvard University, United States of America
Walter Turner , Global Exchange , United States of America
Wanda Irina Belaustegui , Frente de Estudiantes por los Derechos Humanos – IUNMa, Argentina
Wanda Irina Belaustegui , Centro de Estudiantes del Instituto Universitario Nacional de Derechos Humanos Madres de Plaza de Mayo – CEIUNMa, Argentina
Waquar Ahmed, University Of North Texas , United States of America
Warner Martinez, Ministerio de Educacion, Venezuela
Watson Lubin, University of Chicago, United States of America
Wawen Ewimbi, Claudia Jones School for Political Education, United States of America
Wellington Castro dos Santos , Nemhuma, Brasil
WELLINGTON WAGNER FERREIRA SARMENTO, Federal University of Ceará, Brasil
Wendy Brown, Institute for Advanced Study, United States of America
Wesley Simpson, N/A, Canada
William I Robinson , University of California at Santa Barbara , United States of America
William Toms, NYU, United States of America
Wilmer Poleo Zerpa, Periodista, Venezuela
Winder José Rodriguez Moreno, Partido Socialista Unido de Venezuela-UBCH Creación Santa Inés., Venezuela
Xadeni Méndez Márquez , Morena, México
Xóchitl García, MD, Colectiva Médica ELAM Oaxaca , México
Yanett Ramirez, -, United States
Yanina Settembrino, Federación Rural para el arraigo y la producción, Argentina
Yasmany Zapata Perez, CDR, Cuba
Yelena Sánchez, Kingston University , United Kingdom
Yheanelkis Biviana Espinoza Ardiles , Unidad Popular Venezolana UPV, Venezuela
Yldefonso Finol, Centro Antiimperialista Simón Bolívar, Venezuela
Yoan Karell Acosta González, University of Havana, Cuba
Yohanka Leon del Rio, GALFISA, Talleres internacionales sobre Paradgimas emancipatorios, Cuba
Yris Mota Fernández , Movimiento de Mujeres Matria Patria , Venezuela
Ysabel Riera , Mujeres PSUV, Venezuela
[email protected] , Red de DH del campesinado del Putumayo, Piamonte Cauca y Cofania Jardines de Sucumbíos – Ipiales Nariño , Colombia
Yusmelys Vázquez , PSUV , Venezuela
Zaferia zolotas, Zaf , United States of America
Zare Ferragi, UFSCar, Brasil
Zelci Clasen de Oliveira, Malta Clasen Componentes Educacionais (mc²E), Brasil
Zélia Gomes, Misioneras de Jesús Crucificado , Brasil
Dr. Zhun Xu, John Jay College and graduate center, CUNY, United States of America / China
Zobeida Prieto , Docente universitaria jubilada, Venezuela
Zoe Alexandra, Peoples Dispatch, United States of America